Concentrates Menu
A concentrate is any type of cannabis product that is refined from flowers into a more purified and potent form. A concentrate can refer to any form of hash (pressed hash or water hash), kief, or hash oil (CO2, BHO, shatter, budder, wax etc). These more potent forms of cannabis have become extremely popular in medical and recreational communities.  Currently, none of our suppliers has completed the regulatory steps to be able to sell concentrates in our dispensary.  Hopefully, we will have some in stock again soon.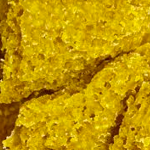 Jetty Dablicators ~ Reckless Rainbow
$26.95
Reckless Rainbow is a hybrid grown in the Emerald Triangle. Dispensing oil is messy and imprecise but the Dablicator™ keeps things real. A purse and pocket-friendly device filled with 500mg gold wax. We reintroduce the strain's own terpenes to the finished concentrate resulting in a bright, sweet, and tropical taste. Contains 72.5% THC 1.3% CBD.