Concentrates Menu
A concentrate is any type of cannabis product that is refined from flowers into a more purified and potent form. A concentrate can refer to any form of hash (pressed hash or water hash), kief, or hash oil (CO2, BHO, shatter, budder, wax etc). These more potent forms of cannabis have become extremely popular in medical and recreational communities.  Currently, none of our suppliers has completed the regulatory steps to be able to sell concentrates in our dispensary.  Hopefully, we will have some in stock again soon.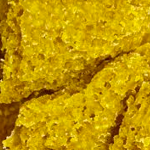 ABX Live Resin ~ Sour Diesel
$39.95
Sour Diesel is an energizing sativa that gets its name from its pungent diesel-like aroma and taste. Patients report invigorating & uplifting cerebral effects, making it ideal for relief when you need to be active. Introducing ABX Live, our first-ever ABX live resin product.