Drinks Menu
High Tides offers a variety of cannabis beverages, including Waska, Sprig, and Incog Flux 420.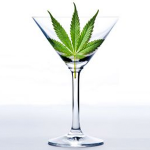 Rebel Coast Pink Passion ~ 10mg THC
$39.95
Rebel Coast's Pink Passion beverage is a cannabis-infused wine similar to your average rosé. It has a sweet and slightly sour flavor that can be a little offputting, but it goes down easy. Try not to compare it to actual wine. The high is boozy and mellow, but it's much better with friends so make sure to surround yourself with a social atmosphere.