Flowers Menu
The flowers of a cannabis plant refer to the hairy, often sticky bud or parts of the plant that are harvested and used to consume in a variety of marijuana products. Technically speaking, they are the reproductive organs of the plant and when fertilized by a male plant, seeds will be produced.  
Our need to comply with the California State Cannabis regulations has shifted the way we sell our flowers, and in order to met the California cannabis packaging and labeling laws, all of our flowers will now be sold in pre-packaged 1/4, 1/8, and 1 gram jars.  As always, we are committed to providing the highest quality, safe, tested and delicious flowers grown in the Emerald Triangle!
PLEASE NOTE, Our flower selection changes frequently.  The list below is only an approximation of what we have in stock.  We get a new delivery every Thursday, so be sure to call or stop by the shop for updates.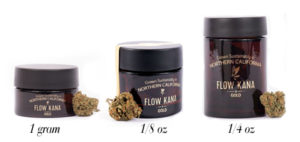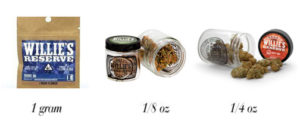 Royal Kush, Willie's Reserve
$95.95 for 1/4 oz jar
From Willie's Reserve, 1/8 oz jar,28.17% THC 0.09% CBD.
Royal Kush is a king among hybrids, delivering powerful trance-like effects with an earthy, skunky aroma. This balanced hybrid descends from the renowned line of Afghaniand Skunk #1, two strains that have gained legendary status among cannabis breeders. Royal Kush's happy, euphoric relaxationbranches out in full-body effects that later ease into deep restfulness conducive for sleep. Patients treating stress, pain, and nausea can benefit from Royal Kush's potent relief, but less seasoned consumers should take caution with this hard-hitter.