Flowers Menu
The flowers of a cannabis plant refer to the hairy, often sticky bud or parts of the plant that are harvested and used to consume in a variety of marijuana products. Technically speaking, they are the reproductive organs of the plant and when fertilized by a male plant, seeds will be produced.  
Our need to comply with the California State Cannabis regulations has shifted the way we sell our flowers, and in order to met the California cannabis packaging and labeling laws, all of our flowers will now be sold in pre-packaged 1/4, 1/8, and 1 gram jars.  As always, we are committed to providing the highest quality, safe, tested and delicious flowers grown in the Emerald Triangle!
PLEASE NOTE, Our flower selection changes frequently.  The list below is only an approximation of what we have in stock.  We get a new delivery every Thursday, so be sure to call or stop by the shop for updates.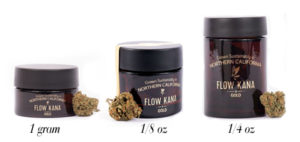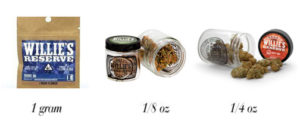 Chem Double D
$10.95 per 1 gram jar
From Flow Kana, 1/4 jar, 21.20% THC.
Chem Double D is a sativa dominant hybrid strain created through a cross of the infamous Chemdawg X Sour Diesel IBL strains. This bud has an insanely potent taste and aroma that fills any room you're in. The flavor is of lemon ammonia with a harsh exhale and a hint of sour diesel, and the aroma is harsh with hints of sour diesel and strong chemicals and lemons. This bud has small and light minty green nugs with dark green leaves, rich amber hairs, and a super frosty coating of tiny crystal trichomes.
The Chem Double D high is pretty strong to even the most experienced user, with heavy head and body effects. The high starts with a subtly relaxing uplifted euphoria that launches your mind into pure bliss. This is accompanied by a building body buzz that washes over you in warming waves of relaxation. As your body stone builds, you'll become ravenous with hunger and helplessly couch-locked with a sense of pleasant sleepiness. Because of these effects and its high THC level, Chem Double D is often used to treat conditions such as depression, chronic stress or anxiety, insomnia, chronic pain, and appetite loss.