Flowers Menu
The flowers of a cannabis plant refer to the hairy, often sticky bud or parts of the plant that are harvested and used to consume in a variety of marijuana products. Technically speaking, they are the reproductive organs of the plant and when fertilized by a male plant, seeds will be produced.  
Our need to comply with the California State Cannabis regulations has shifted the way we sell our flowers, and in order to met the California cannabis packaging and labeling laws, all of our flowers will now be sold in pre-packaged 1/4, 1/8, and 1 gram jars.  As always, we are committed to providing the highest quality, safe, tested and delicious flowers grown in the Emerald Triangle!
PLEASE NOTE, Our flower selection changes frequently.  The list below is only an approximation of what we have in stock.  We get a new delivery every Thursday, so be sure to call or stop by the shop for updates.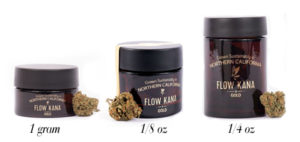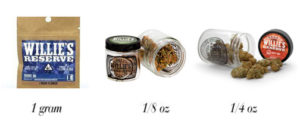 Jacks Dream
$69.95 for 1/4 Jar
From Flow Kana, 1/4 oz jar
Jack\'s Dream is a sativa dominant hybrid strain created through crossing the infamous Jack Herer X Blue Dream strains. This bud flawlessly brings together the effects and flavors of both of its parent strains, making for one energetic and dreamy high that\'s perfect for a lazy day when you need a little oomph to get you going. The Jack\'s Dream high comes on with an almost immediate euphoric boost that leaves you feeling giggly and insanely happy. You\'ll feel an increase in sociability, happily talking to anyone around you about anything and everything. Your mind will drift in and out of focus, accompanied by a building sense of creativity that can leave you dreamy and imaginative at times. In combination with its moderately high 15% average THC level, these effects make Jack\'s Dream perfect for treating conditions such as depression, chronic pain, cramps or spasms, chronic fatigue, and inflammation. This bud has a super sweet berry pine flavor with a skunky earthy exhale. The aroma is very sweet and earthy with a berry kush overtone. Jack\'s Dream buds have long dark olive green nugs with rich blue undertones, reddish orange hairs, and a coating of clear crystal trichomes.