Topicals Menu
A topical is any type of cannabis product, including lotions, balms or creams that are applied to the outside of a user's body to help with medicinal issues like body pain, skin problems, etc. Although these lotions showcase specific cannabinoids extracts like THC, topicals won't actually get you high. The product is absorbed through the skin, so many users like the less aggressive approach to consuming marijuana.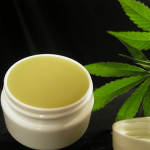 Canna Care Topicals ~ Sports Rub, 4oz
$73.95
Popular with acupuncturists, chiropractors, massage therapists, medical recommendation doctors, Canna Care topicals are intended for mitigating pain management daily. The Canna Care formula has a close one-to-one ratio of both activated and acidic THC and CBD, plus their high amounts of CBD, CBDa, THC, and THCa set them apart from other topical medicines. The additonal organic herbs work symbiotically with medical marijuana to enhance the natural anti-inflammatory and analgesic benefits.
The more you use topicals the more the muscles are trained to relax and rejuvenate. Canna Care topicals are non-psychoactive.