Topicals Menu
A topical is any type of cannabis product, including lotions, balms or creams that are applied to the outside of a user's body to help with medicinal issues like body pain, skin problems, etc. Although these lotions showcase specific cannabinoids extracts like THC, topicals won't actually get you high. The product is absorbed through the skin, so many users like the less aggressive approach to consuming marijuana.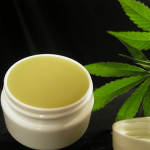 Cosmic View ~ Deep Down Athletic Balm - small
$44.95
DEEP TISSUE FORMULA – 2019 EMERALD CUP WINNER — small
A 100% organic, doctor-formulated topical blend of premium artisanal ingredients, this salve is packed with pain-relieving medicinal oils and herbs including arnica and comfrey that work synergistically with full-spectrum CBD- and THC-rich cannabis to relieve achy, sore muscles.  Loaded with antibacterial and healing properties, cooling menthol, wintergreen and spearmint oils cool skin and muscular tissue.  Medicinal rosemary contains flavonoids, terpenes, and phenolic acids associated with effective treatment of rheumatic pain. Incorporate this salve into a post-workout routine or massage into areas of pain for quick relief of injuries, arthritis and other degenerative diseases.
Ingredients: California cold-pressed, extra virgin olive oil infused with locally grown cannabis, comfrey and arnica, beeswax, menthol, spearmint, rosemary and wintergreen essential oils. 
All ingredients are sustainably farmed and holistically processed. Sonoma County olive oil is currently undergoing Oregon Tilth certification.
50 mg CBD; 100 mg THC
1 oz