Topicals Menu
A topical is any type of cannabis product, including lotions, balms or creams that are applied to the outside of a user's body to help with medicinal issues like body pain, skin problems, etc. Although these lotions showcase specific cannabinoids extracts like THC, topicals won't actually get you high. The product is absorbed through the skin, so many users like the less aggressive approach to consuming marijuana.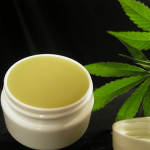 Cosmic View ~ Skin Salvation Renew & Repair Balm
$44.95
SKIN RELIEF FORMULA
This 100% organic, doctor-formulated CBD and THC topical blend contains medicinal plant infusions to soothe and speed the healing time of skin damage from psoriasis, eczema and other autoimmune skin conditions. THC binds to CB2 receptors in the skin and diminishes inflammatory autoimmune responses providing instant relief and inhibiting skin proliferation associated with psoriasis and other autoimmune skin conditions. Oregon grape root, chamomile, yarrow and plantain enhance wound healing and reduce itching and burning. Sea buckthorn oil contains powerful phytonutrients that exert antioxidant activity to soothe and heal the skin.
Ingredients: Organic California cold-pressed, extra virgin olive oil infused with full sun cannabis, Oregon grape root, plantain, chamomile and yarrow leaves and flowers, beeswax, sea buckthorn oil, vitamin E oil, blue chamomile and lavender essential oil.  
All ingredients are sustainably farmed and holistically processed. Sonoma County olive oil is currently undergoing Oregon Tilth certification.
50 mg CBD; 50 mg THC
1 oz