Edibles Menu
Edibles are marijuana-infused products that are consumed orally, versus smoking flower or concentrate. Some of the more common forms of edibles include baked goods (like brownies & cookies) and candy (like chocolate, gummies & lollipops), but can also be found in coffee, beef jerky, soda, etc. Eating an edible is different than smoking bud because it's being digested versus inhaled, which often results in a more intense and elongated high. When consuming an edible, it's always safe to go slow and feel the intended effects first before consuming more.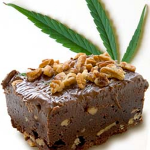 THC/CBD 1:1 Pot Corn
$8.95
Pop-Up Potcorn is Cannabis-Infused Microwave Popcorn.
This THC/CBD-infused oil uses a hybrid cannabis oil.  This delicious flavor profile of freshly popped corn with no overwhelming cannabis flavor. This is a hybrid edible providing the user with the perfect balanced experience.
It uses Sea Salt and sustainably sourced organic palm oil to give it a lightly salted buttery flavor. Pop-Up Potcorn uses mini size, single serving microwave popcorn bags which make around 5 cups of popcorn. Traditional size microwave popcorn bags make around 12 cups of popcorn.
approximately 4.3 mg CBD and 4.7 mg THC