Edibles Menu
Edibles are marijuana-infused products that are consumed orally, versus smoking flower or concentrate. Some of the more common forms of edibles include baked goods (like brownies & cookies) and candy (like chocolate, gummies & lollipops), but can also be found in coffee, beef jerky, soda, etc. Eating an edible is different than smoking bud because it's being digested versus inhaled, which often results in a more intense and elongated high. When consuming an edible, it's always safe to go slow and feel the intended effects first before consuming more.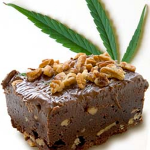 CBD 18:1 Dark Chocolate Bar
$5.95
High quality CBD in delicious dark chocolate. Made from full spectrum, plant-derived CBD and award-winning chocolate. With 10mg of CBD per serving and 8 servings per bar, CBD chocolates are a great option for long-lasting relief.
Great for daytime use. Not usually psychoactive at standard doses. Use caution as the onset of effects may be delayed up to two hours.