Edibles Menu
Edibles are marijuana-infused products that are consumed orally, versus smoking flower or concentrate. Some of the more common forms of edibles include baked goods (like brownies & cookies) and candy (like chocolate, gummies & lollipops), but can also be found in coffee, beef jerky, soda, etc. Eating an edible is different than smoking bud because it's being digested versus inhaled, which often results in a more intense and elongated high. When consuming an edible, it's always safe to go slow and feel the intended effects first before consuming more.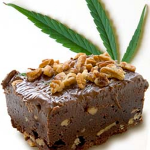 Kiva ~ Camino Midnight Blueberry
$21.95
Created by Kiva Confections, Camino Midnight Blueberry is for sleeping! This "sleep" gummy offers a calming combination of 5 MG of THC with 1 MG of CBN, relaxing terpenes, and chamomile and lavender oils. Together, these ingredients work synergistically together to create Kiva's most tranquil product yet.