Edibles Menu
Edibles are marijuana-infused products that are consumed orally, versus smoking flower or concentrate. Some of the more common forms of edibles include baked goods (like brownies & cookies) and candy (like chocolate, gummies & lollipops), but can also be found in coffee, beef jerky, soda, etc. Eating an edible is different than smoking bud because it's being digested versus inhaled, which often results in a more intense and elongated high. When consuming an edible, it's always safe to go slow and feel the intended effects first before consuming more.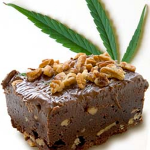 Kiva Terra Bites ~ Chocolate Covered Espresso Beans
$22.95
KIVA Terra Bites are crafted from micro-roasted Tanzanian coffee beans and coated in Kiva Dark Chocolate. With 5MG of THC per bite, Terra offers dosing that is as convenient as it is delicious. The reclosable container makes it easy to enjoy a little now, and with 120mg THC in each tin, a little later, too.
All Natural Ingredients: Semisweet Chocolate ( Sugar, Unsweetened Chocolate, Cocoa Butter, Potassium Carbonate, Sunflower Lecithin, Vanilla), Espresso Bean, Cocoa Powder, Gum Arabic, Confectioners Glaze, Natural Flavor, Cannabis Extract, Glucose Syrup.