Edibles Menu
Edibles are marijuana-infused products that are consumed orally, versus smoking flower or concentrate. Some of the more common forms of edibles include baked goods (like brownies & cookies) and candy (like chocolate, gummies & lollipops), but can also be found in coffee, beef jerky, soda, etc. Eating an edible is different than smoking bud because it's being digested versus inhaled, which often results in a more intense and elongated high. When consuming an edible, it's always safe to go slow and feel the intended effects first before consuming more.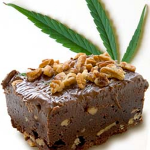 Satori Chocolate Blueberries
$21.95
Satori HIGHBUSH BLUEBERRIES in DARK CHOCOLATE are made with organic blueberries brimming with anti-oxidants. Satori dark chocolate is made with Cacao Fino de Aroma, one of the world's most highly sought cacaos, and Satori is made with premium cannabis strains, grown in the California sun. The cannabis oil is then carefully extracted using the highest production standards.
140mg THC ; Serving size: 5 pieces ; Servings per package: 14
THC per serving: 2mg per piece
Ingredients: Dark Chocolate (Cacao Beans, Cane Sugar. Cocoa Butter, Soy lecithin, Pure Vanilla Extract),