Edibles Menu
Edibles are marijuana-infused products that are consumed orally, versus smoking flower or concentrate. Some of the more common forms of edibles include baked goods (like brownies & cookies) and candy (like chocolate, gummies & lollipops), but can also be found in coffee, beef jerky, soda, etc. Eating an edible is different than smoking bud because it's being digested versus inhaled, which often results in a more intense and elongated high. When consuming an edible, it's always safe to go slow and feel the intended effects first before consuming more.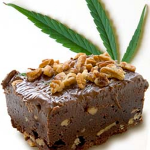 Kiva CBD Dark Chocolate Ginger
$31.95
Valued for its therapeutic properties, cannabidiol (CBD) is a non-psychoactive compound found in cannabis. Together, THC and CBD produce a well-balanced effect. Kiva bars are crafted using heirloom Mendocino cannabis, grown outdoors on family-run farms following traditional permaculture techniques. Like all Kiva products, the CBD bars are thoroughly tested for consistency, safety, and taste. Ideal for medically-focused patients seeking a calm, relaxing effect.