Edibles Menu
Edibles are marijuana-infused products that are consumed orally, versus smoking flower or concentrate. Some of the more common forms of edibles include baked goods (like brownies & cookies) and candy (like chocolate, gummies & lollipops), but can also be found in coffee, beef jerky, soda, etc. Eating an edible is different than smoking bud because it's being digested versus inhaled, which often results in a more intense and elongated high. When consuming an edible, it's always safe to go slow and feel the intended effects first before consuming more.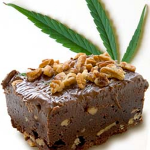 Heavenly Sweet ~ Canna Butter
$74.95
2000 MG THC PER PACKAGE / 200 DOSES, 4 oz container
Heavenly Sweet gives you the option to create your own edibles using your own recipes. Our 4oz medical-use cannabutter is available to qualified cannabis patients, and is made of 100% real dairy double-clarified butter.  GREEN LABEL.