Edibles Menu
Edibles are marijuana-infused products that are consumed orally, versus smoking flower or concentrate. Some of the more common forms of edibles include baked goods (like brownies & cookies) and candy (like chocolate, gummies & lollipops), but can also be found in coffee, beef jerky, soda, etc. Eating an edible is different than smoking bud because it's being digested versus inhaled, which often results in a more intense and elongated high. When consuming an edible, it's always safe to go slow and feel the intended effects first before consuming more.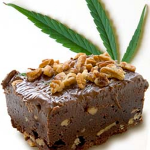 Valhalla CBD Gummies ~ Tropical Twist
$23.95
High Tides carries Tropical Twist Valhalla CBD gummies.
Valhalla Gummies are strain specific using Blue Dream and Sour Deisel for Sativa, Cannatonic for CBD, and OG Kush or DMC for Indica. All products and extracts are lab tested to ensure consistency and proper dosing. They use organic, free-trade sugar and organic corn syrup in their gummies, and the stylish tin packaging is 100% recyclable. 6 Gummies per pack.