Edibles Menu
Edibles are marijuana-infused products that are consumed orally, versus smoking flower or concentrate. Some of the more common forms of edibles include baked goods (like brownies & cookies) and candy (like chocolate, gummies & lollipops), but can also be found in coffee, beef jerky, soda, etc. Eating an edible is different than smoking bud because it's being digested versus inhaled, which often results in a more intense and elongated high. When consuming an edible, it's always safe to go slow and feel the intended effects first before consuming more.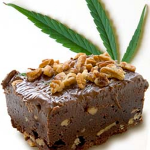 Kiva ~ Camino Fresh Squeezed (Recover)
Created by Kiva Confections, Camino Fresh Squeezed is all about recovery. This "recover" gummy helps with pain, stress, and mood and its restorative blend of CBD and calming terpenes will renew you from the inside out. Gummies in a 9:1 CBD:THC ratio, plus ginseng and milk thistle, to increase efficacy. Together, these ingredients work synergistically together to create Kiva's most restorative product yet.