Edibles Menu
Edibles are marijuana-infused products that are consumed orally, versus smoking flower or concentrate. Some of the more common forms of edibles include baked goods (like brownies & cookies) and candy (like chocolate, gummies & lollipops), but can also be found in coffee, beef jerky, soda, etc. Eating an edible is different than smoking bud because it's being digested versus inhaled, which often results in a more intense and elongated high. When consuming an edible, it's always safe to go slow and feel the intended effects first before consuming more.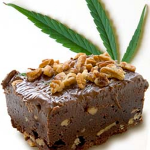 Kiva Milk Chocolate Churro Bar ~ 100mg
$23.95
Dusted in cinnamon sugar, this sweetly satisfying milk chocolate bar tastes like a golden, fried churro dipped in delicious hot chocolate. Kiva uses cold water extract in all of their chocolates to create an unparalleled edible experience. Not only does this process preserve the terpenes for a full spectrum, whole plant cannabis experience, it boasts a superior taste that both chocolate and cannabis connoisseurs alike will love.