Edibles Menu
Edibles are marijuana-infused products that are consumed orally, versus smoking flower or concentrate. Some of the more common forms of edibles include baked goods (like brownies & cookies) and candy (like chocolate, gummies & lollipops), but can also be found in coffee, beef jerky, soda, etc. Eating an edible is different than smoking bud because it's being digested versus inhaled, which often results in a more intense and elongated high. When consuming an edible, it's always safe to go slow and feel the intended effects first before consuming more.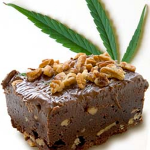 Kiva Petra Saigon Cinnamon
Sweet and spicy with just a touch of heat, Saigon Cinnamon Petra freshens your breath and warms your senses.
This microdosed cannabis infused mint boasts the most discreet, portable, pocketable, and purse-able edibles package on the market. At 2.5MG THC per serving, Saigon Cinnamon Petra is perfect for the new or casual cannabis user, and the seasoned cannabis user looking for a consistent, low dose of THC throughout the day.
2.5mg THC per mint / 100mg THC per tin
Ingredients: Xylitol, Saigon Cinnamon, Dextrin, Natural Flavors, Rebiana (Stevia), Fruit & Vegetable Juice for Color, Cannabis Extract, Magnesium Stearate, Silicon Dioxide.