Edibles Menu
Edibles are marijuana-infused products that are consumed orally, versus smoking flower or concentrate. Some of the more common forms of edibles include baked goods (like brownies & cookies) and candy (like chocolate, gummies & lollipops), but can also be found in coffee, beef jerky, soda, etc. Eating an edible is different than smoking bud because it's being digested versus inhaled, which often results in a more intense and elongated high. When consuming an edible, it's always safe to go slow and feel the intended effects first before consuming more.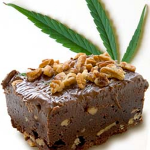 Emerald Sky Peanut Butter Cups
One of our most popular edible confections, richly flavored milk chocolate and the perfect peanut butter combine to make fine tasting Peanut Butter Cups. Each bite will melt in your mouth and ease you into a euphoria that only Peanut Butter Cups can take you to! These tasty nostalgic treats are available in 5 and 10MG doses of Indica Hybrid cannabis.