Edibles Menu
Edibles are marijuana-infused products that are consumed orally, versus smoking flower or concentrate. Some of the more common forms of edibles include baked goods (like brownies & cookies) and candy (like chocolate, gummies & lollipops), but can also be found in coffee, beef jerky, soda, etc. Eating an edible is different than smoking bud because it's being digested versus inhaled, which often results in a more intense and elongated high. When consuming an edible, it's always safe to go slow and feel the intended effects first before consuming more.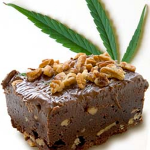 Kiva ~ Camino Sparkling Pear (THC/CBD)
$21.95
Contains 40 mg of THC and 120 mg of CBD.
The name Camino was inspired by the historic El Camino Real, the 600 mile California road that connects some of the most beautiful and inspiring landscapes in the state. Each flavor of Camino was designed to transport you to a specific location and put you in a "California State of Mind." The Sparkling Pear gummies pair an unconventional ratio of CBD to THC for a euphoric high without any anxiety. Transform your day into a weekend in wine country.