Flowers Menu
The flowers of a cannabis plant refer to the hairy, often sticky bud or parts of the plant that are harvested and used to consume in a variety of marijuana products. Technically speaking, they are the reproductive organs of the plant and when fertilized by a male plant, seeds will be produced.  
Our need to comply with the California State Cannabis regulations has shifted the way we sell our flowers, and in order to met the California cannabis packaging and labeling laws, all of our flowers will now be sold in pre-packaged 1/4, 1/8, and 1 gram jars.  As always, we are committed to providing the highest quality, safe, tested and delicious flowers grown in the Emerald Triangle!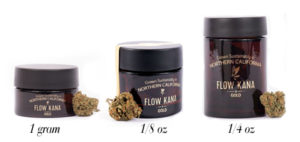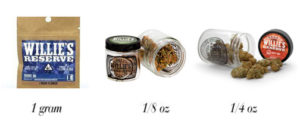 Blue Goo
$9.95 1 gram jar
From Flow Kana, 1 gram jar.
Blue Goo is a sativa-dominant hybrid that's a cross between the famous hybrid Blue Dream and indica Afgoo. A moderate to high potency yields uplifting effects that are standard for sativas, but not excessively energetic thanks to Afgoo's contribution as well as the mellow nature of Blue Dream. This strain is appropriate for day or nighttime consumption and is good for treating depression and nausea. Smooth smoke and berry taste.