Flowers Menu
The flowers of a cannabis plant refer to the hairy, often sticky bud or parts of the plant that are harvested and used to consume in a variety of marijuana products. Technically speaking, they are the reproductive organs of the plant and when fertilized by a male plant, seeds will be produced.  
Our need to comply with the California State Cannabis regulations has shifted the way we sell our flowers, and in order to met the California cannabis packaging and labeling laws, all of our flowers will now be sold in pre-packaged 1/4, 1/8, and 1 gram jars.  As always, we are committed to providing the highest quality, safe, tested and delicious flowers grown in the Emerald Triangle!
PLEASE NOTE, Our flower selection changes frequently.  The list below is only an approximation of what we have in stock.  We get a new delivery every Thursday, so be sure to call or stop by the shop for updates.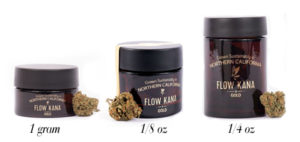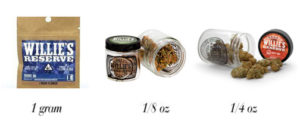 Blue Whale
$76.95 for 1/4 jar
From Flow Kana, 1/4 jar, 22.28% THC.
Blue Whale, grown by Briza Botanicals Farms in Mendocino, is a sativa dominant cross of Blue Dream and True Kush. With a hint of a berry aroma mixed with heavy musk, this fruity flower helps you mellow out and get connected to your surroundings.
Blue Dream, a sativa-dominant hybrid originating in California, has achieved legendary status among West Coast strains. Crossing a Blueberry indica with the sativa Haze, Blue Dream balances full-body relaxation with gentle cerebral invigoration. Novice and veteran consumers alike enjoy the level effects of Blue Dream, which ease you gently into a calm euphoria. Some Blue Dream phenotypes express a more indica-like look and feel, but the sativa-leaning variety remains most prevalent.
With a sweet berry aroma redolent of its Blueberry parent, Blue Dream delivers swift symptom relief without heavy sedative effects. This makes Blue Dream a popular daytime medicine for patients treating pain, depression, nausea, and other ailments requiring a high THC strain.
True OG Kush is a popular indica strain that was originally discovered in Southern California, where the term "OG" originally meant "ocean grown." Bred with genetics from the very popular OG Kush, True OG Kush is potent enough for mellow, lasting effects combined with a more focused head high. Flowers have a pungent, crisp citrus and evergreen scent. True OG Kush has snagged the 2nd place indica spot in every High Times Medical Cup since 2010.