Flowers Menu
The flowers of a cannabis plant refer to the hairy, often sticky bud or parts of the plant that are harvested and used to consume in a variety of marijuana products. Technically speaking, they are the reproductive organs of the plant and when fertilized by a male plant, seeds will be produced.  
Our need to comply with the California State Cannabis regulations has shifted the way we sell our flowers, and in order to met the California cannabis packaging and labeling laws, all of our flowers will now be sold in pre-packaged 1/4, 1/8, and 1 gram jars.  As always, we are committed to providing the highest quality, safe, tested and delicious flowers grown in the Emerald Triangle!
PLEASE NOTE, Our flower selection changes frequently.  The list below is only an approximation of what we have in stock.  We get a new delivery every Thursday, so be sure to call or stop by the shop for updates.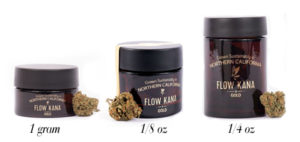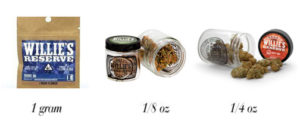 Black Triangle
$53.95 for 1/8
From Royal Tree Indoor, 1/8 jar.
Black Triangle is a rare 100% pure indica hybrid strain created through crossing the infamous Triangle Kush X \\\\'88 G13 Hashplant. This potent combination yields a high-powered bud with a THC level that knocks it out of the park at about 26-31% on average. Long-lasting effects are the name of the game with Black Triangle, hitting both mind and body with a deeply peaceful potency. The high comes on with a euphoric lift that launches your mind into a state of pure unfocused bliss that is free of any negative or racing thoughts. As your mind settles into oblivion, you\\\\'ll feel a slightly buzzy body high wash over you, dropping you into a sedative state that can leave you dozing pretty quickly. Thanks to these effects and its super high THC level, Black Triangle is often chosen to treat conditions such as chronic pain, insomnia, loss of appetite, muscle spasms, and depression. This bud has a sweet earthy vanilla flavor with a mouthful of citrusy pine upon exhale. The aroma takes a spicier turn, with a dank citrus overtone accented by fresh vanilla and pungent earth. Black Triangle buds have long tapered olive green nugs with amber hairs and a frosty thick coating of tiny bright white crystal trichomes.