Flowers Menu
The flowers of a cannabis plant refer to the hairy, often sticky bud or parts of the plant that are harvested and used to consume in a variety of marijuana products. Technically speaking, they are the reproductive organs of the plant and when fertilized by a male plant, seeds will be produced.  
Our need to comply with the California State Cannabis regulations has shifted the way we sell our flowers, and in order to met the California cannabis packaging and labeling laws, all of our flowers will now be sold in pre-packaged 1/4, 1/8, and 1 gram jars.  As always, we are committed to providing the highest quality, safe, tested and delicious flowers grown in the Emerald Triangle!
PLEASE NOTE, Our flower selection changes frequently.  The list below is only an approximation of what we have in stock.  We get a new delivery every Thursday, so be sure to call or stop by the shop for updates.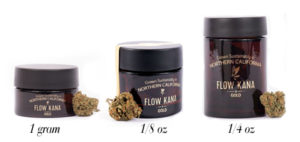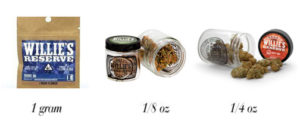 Gorilla Glue
$54.95 for 1/4 jar
From Royal Tree Indoor, 1/4 jar, 22.92% THC.
Gorilla Glue, also known as "Gorilla Glue #1" or "420 Glue" is an indica dominant hybrid (60% indica/40% sativa) strain created through crossing the classic Chocolate Diesel X Sour Diesel strains. This bud packs a crazy powerful high that leaves you feeling like your mind is filled with glue, all fueled by an insanely potent 25-28% average THC level. The high starts with a cerebral rush that leaves you feeling happy yet totally hazy, with no hope of focusing on anything any time soon. As your head high build and builds, your body will be washed over with a deep body buzz, leaving you feeling completely stoned and immovable. These effects last for hours on end and often end in a deep sleep for the lesser experienced. Because of these effects, Gorilla Glue is said to be perfect for treating conditions such as chronic pain, depression, insomnia, nausea, and muscle spasms. This bud has a super sour diesel chemical flavor that's incredibly harsh and sticks to your tongue long after you finish toking. The aroma is even more powerful, with a slightly sweet sour mocha effect that's accented by chemical diesel. Gorilla Glue buds have small round piecey dark olive green nugs with purple undertones and a super frosty coating of tiny white crystal trichomes.