Flowers Menu
The flowers of a cannabis plant refer to the hairy, often sticky bud or parts of the plant that are harvested and used to consume in a variety of marijuana products. Technically speaking, they are the reproductive organs of the plant and when fertilized by a male plant, seeds will be produced.  
Our need to comply with the California State Cannabis regulations has shifted the way we sell our flowers, and in order to met the California cannabis packaging and labeling laws, all of our flowers will now be sold in pre-packaged 1/4, 1/8, and 1 gram jars.  As always, we are committed to providing the highest quality, safe, tested and delicious flowers grown in the Emerald Triangle!
PLEASE NOTE, Our flower selection changes frequently.  The list below is only an approximation of what we have in stock.  We get a new delivery every Thursday, so be sure to call or stop by the shop for updates.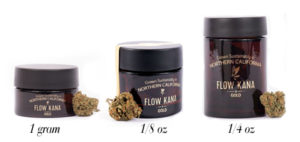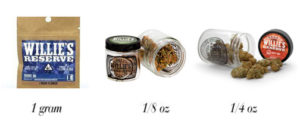 Sage & Sour Kush
$39.95 per 1/8 jar
From Royal Bud, 1/8 jar
Sage and Sour, also known as "Sage 'N Sour" to most of the cannabis community, is a sativa dominant hybrid (75% sativa/25% indica) strain created by breeders at the infamous TH Seeds as a potent cross between the hugely popular Sour Diesel X SAGE Hybrid. Sage and Sour has a sweet herby sage taste with a hint of sour earth upon exhale and an aroma of sour herby sage. Users describe the Sage and Sour high as a fast euphoric clear-headed sativa head high that's perfect for a wake and bake. You'll feel activated and social with feelings of creativity and motivation. This is accompanied by a slowly creeping smooth mild body buzz that is relaxing and not sedative. Due to these potent sativa and indica effects, Sage and Sour is an ideal strain for treating patients suffering from conditions such as nausea or appetite loss, migraines or tension headaches, and chronic anxiety or stress. Sage and Sour buds have dense fluffy dark olive green nugs with rich purple leaves and undertones and a spattering of light thin twisty amber hairs. These nugs are dusted with a fine layer of almost translucent trichomes and sweet sticky resin.