Miscellaneous Products
High Tides carries an expansive paper selection, screens, apparel, rolling trays, pipe cleaners, incense, lighters, torches, and so on. Come in and see our selection.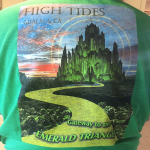 Zig Zags ~ Organic Hemp King
$3.25
Organic, Unbleached and Slow Burning.  From the all-natural gum Arabic to the unbleached leaves, everything about Zig-Zag Organic Hemp is just as mother nature intended. Pure Hemp Fibers.
Zig-Zag Organic Hemp papers are made from pure, non-gmo hemp fibers sourced from organic farms.