Miscellaneous Products
High Tides carries an expansive paper selection, screens, apparel, rolling trays, pipe cleaners, incense, lighters, torches, and so on. Come in and see our selection.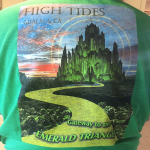 Zig Zags ~ Orange King
$2.95
100% Natural Gum Arabic. All Zig-Zag papers have a thin glue line to provide a perfect seal – every time. Derived from the sap of the African acacia tree, the natural properties of gum Arabic provide a consistent seal without impacting the taste of your smoke. Made using Natural Flax Plant Fibers.