Pet Products Menu
Over the past several years, there has been a surge in interest in medical cannabis and CBD for pets. In 2018, veterinarians and others concerned for patient safety promoted a the use of cannabis for pets, and AB 2215 was passed and signed into law, allowing veterinarians to "discuss" the use of cannabis with pet owners. As a pet owner, you can buy CBD containing products for pets over the counter. High Tides sells a few different products to suit the needs of your pet.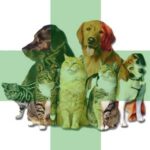 Easy to Measure CBD for Pets
Veterinarian Formulated
All natural product
Olive oil based, PET SAFE
VETCBD products are tested according to the strict standards set by California cannabis regulations using state-certified laboratories to ensure our cannabinoid content is accurate and that all products are free from pesticides, solvents, microbial agents, and foreign materials.