Topicals Menu
A topical is any type of cannabis product, including lotions, balms or creams that are applied to the outside of a user's body to help with medicinal issues like body pain, skin problems, etc. Although these lotions showcase specific cannabinoids extracts like THC, topicals won't actually get you high. The product is absorbed through the skin, so many users like the less aggressive approach to consuming marijuana.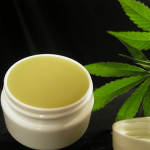 Mary's Medicinals Indica Gel Pen
$47.95
One of the fastest-acting, most accurately dosed cannabis products available. Mary's patented gel pens have been reported to be a wonderful accompaniment to the transdermal patches or can be used on their own.
How To Use:  The pen is most effective when applied to a veinous part of the body, like the top of the foot or inner wrist. Cleanse and dry skin prior to application. Twist end of pen counter-clockwise to unlock, and depress to dispense a 2mg dose. Effects are typically felt within 15 minutes and last up to six hours.
Ingredients: Cannabis extract, transdermal gel base, naturally derived terpenes.