Topicals Menu
A topical is any type of cannabis product, including lotions, balms or creams that are applied to the outside of a user's body to help with medicinal issues like body pain, skin problems, etc. Although these lotions showcase specific cannabinoids extracts like THC, topicals won't actually get you high. The product is absorbed through the skin, so many users like the less aggressive approach to consuming marijuana.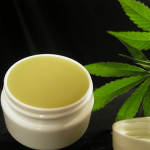 Mary's Medicinals THCa Patch
$10.95
Mary's award-winning transdermal patches are born out of a commitment to accurate dosing through an advanced delivery method. The discreet 2×2″ squares simply adhere to any veinous part of the skin for 8-12 hours of unsurpassed systemic relief.
How to Use: The patch is most effective when applied to a veinous part of the body, like the top of the foot or inner wrist. Cleanse and dry skin prior to application. Remove plastic liner and press patch firmly onto skin. Effects last up to 12 hours. Patch should be worn continuously.
Ingredients: Cannabis extract, eucalyptus, naturally derived terpenes.