Topicals Menu
A topical is any type of cannabis product, including lotions, balms or creams that are applied to the outside of a user's body to help with medicinal issues like body pain, skin problems, etc. Although these lotions showcase specific cannabinoids extracts like THC, topicals won't actually get you high. The product is absorbed through the skin, so many users like the less aggressive approach to consuming marijuana.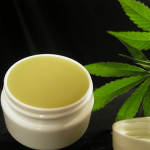 Mary's Medicinals Transdermal Balm ~ 1oz
$53.95
A spot-specific transdermal balm formulated to allow for much deeper penetration than traditional cannabis topicals. Features a 100mg blend of THC, CBD and CBC.
How to Use:  Apply generously over affected area every 4-6 hours as needed. Do not use on broken skin or open wounds.
Ingredients: Cannabis extract, mango butter, menthol.