Vape Products
Vape Products help a user consume marijuana differently than most other methods like a joint or pipe, which often combusts the product. Whether using a vape pen or desktop contraption, each vaporizer will heat flower or oils to a very specific temperature that activates the cannabinoid and turns them into a vapor to be inhaled. Many believe that vaporizing is healthier than smoking because you're not inhaling smoke. Having said that, vaporizers can be just as potent so always be careful when consuming as it's difficult to know how much you've had as vapor is hard to see – or smell. Vape pens and their sister product, e-cigarettes, have gained popularity within the world of marijuana because of their discreetness and lack of smell when used, which makes for a great option at a show, sporting event, bar, etc.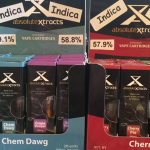 Eel River Organics Vape Cartridges ~ Professor Chaos Vape
$36.95
Professor Chaos ~ A 65/35 Sativa dominant with a sour, spicy aroma that and clear headed effects for patients needing high potency without sacrificing productivity.
EEL RIVER ORGANICS NECTAR™
Single Strain 100% Pure Cannabis Clear Distillates From Whole Flower.
100% pure cannabis oil. No additives. Superior Flavor.
NUG RUN Concentrate from Organic, Dry-Farmed Cannabis.
Natural Plant Terpenes Preserved for Rich, Whole Plant Cannabinoid Profiles.
Solvent Free, Critical CO2 Distillation Process Produces Clean, Clear Oil.