Vape Products
Vape Products help a user consume marijuana differently than most other methods like a joint or pipe, which often combusts the product. Whether using a vape pen or desktop contraption, each vaporizer will heat flower or oils to a very specific temperature that activates the cannabinoid and turns them into a vapor to be inhaled. Many believe that vaporizing is healthier than smoking because you're not inhaling smoke. Having said that, vaporizers can be just as potent so always be careful when consuming as it's difficult to know how much you've had as vapor is hard to see – or smell. Vape pens and their sister product, e-cigarettes, have gained popularity within the world of marijuana because of their discreetness and lack of smell when used, which makes for a great option at a show, sporting event, bar, etc.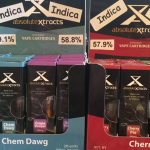 Willie's Reserve ~ Mango Sherbet
$45.95
WILLIE'S RESERVE™ pre-filled cartridges contain pure CO2 cannabis distillate with cannabis derived terpenes. That means no fillers, no cutting agents or any other flavorings. Each variety is expertly crafted to express the naturally occurring flavor profile from our favorite strains. It's a vape experience true to the original.
Bred by Humboldt Seed Company, Mango Sherbert is an indica-dominant cross between Mango Trees, Mango Kush, and Sherbert. It grows fluffy, resinous buds that produce a fruity aroma of mango and sherbert. Mango Sherbert keeps you motivated, making it an ideal strain for an afternoon adventure or creative escapes.